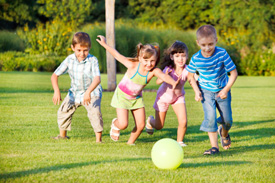 Even if you had your child naturally, they still might have experienced trauma as a result of the birth process. That's why at the practice we recommend that parents bring their children in as soon after birth as possible. We understand that some parents may be unsure of taking their child to see a chiropractor. They may wonder if children will be adjusted as adults are.
Rest assured that Dr. Sacco uses only gentle adjusting techniques on children. With infants, for example, we use only the same amount of pressure that would be applied to check a tomato for ripeness. It takes minimal pressure to get the maximum benefit.
As kids get older, they experience many falls that can cause misalignment in their spine. Safe and gentle adjustments can keep their spines healthy. Additionally, chiropractic care can boost the immune system. You may find that, if your children get adjusted on a regular basis, they have fewer colds.
Help for Many Conditions
Chiropractic can also help with a variety of common childhood conditions. These include:
ADHD
Allergies
Bed-wetting
Colic
Digestive issues
Ear infections
One of our patients who just turned 1 has been coming into the office since he was a few months old. He and our other pediatric patients can enjoy better health throughout childhood and beyond with safe and natural chiropractic care.
We invite you to bring your child in for a gentle adjustment. Call today and find out why Dr. Sacco was named one of America's Top Chiropractors in 2016!