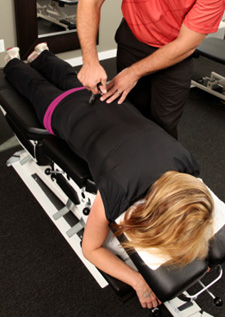 Jomaira Montero, the office manager here at the practice since it opened, is relatively new to chiropractic. Before working here, she had never seen a chiropractor before. She gave birth naturally to all four of her children. During one of the pregnancies, her pelvic bone got out of place. As a result, Jomaira was unable to sleep or mop without pain.
A Skeptic Turned Believer
She sought Dr. Sacco's assistancefor pain relief though in her mind she was ready to just live with the pain. He said, "We're going to get you back to what you're used to doing without pain." Though Jomaira was a bit skeptical as she'd never been under chiropractic care before she was amazed at how much better she felt after the first adjustment. At first, she got adjusted three times a week, then twice a week, then once a week and now once a month. Jomaira is now a wellness patient. Her husband and kids see Dr. Sacco as well.
"I tell patients it's not because I work here but that Dr. Sacco really helped me. He has had such a positive impact on my life. I can sleep, mop, play with my kids and enjoy other activities without any pain." Because of her experience, Jomaira can relate to patients who come into the practice and serve as a walking testimonial.
Jomaira loves meeting patients and encouraging them through their journey from pain relief to wellness. If you want to experience better health contact us today to book an appointment!