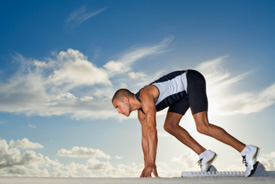 With warmer weather on the horizon, you'll likely be in the great outdoors running, cycling, playing tennis, golfing or participating in another sport. If you're an athlete, you need natural and noninvasive chiropractic care. Chiropractic care can not only help you get out of pain, but it can help to prevent injuries, allowing you to perform better without the use of medication.
Help for Runners
Many runners come into the practice to get not only their back and neck adjusted but also their feet. As running can be punishing on the feet, ankles and knees, an adjustment can help with a variety of common runner's injuries:
Achilles tendonitis
Bursitis and tendonitis
Plantar fasciitis
Because running can disrupt spinal alignment, chiropractic adjustments can minimize pain and keep the spine in top condition.
Care for an Array of Athletes
We are privileged to care for numerous types of athletes at the practice. These include football players, basketball players, baseball players and many more.
Some Success Stories
Our practice is fortunate to receive many kind reviews from patients. One patient is a runner who said she loved coming here because Dr. Scott helped her tremendously. Another patient—a football player— came in with a lot of back pain. Because of the player's pain, he wasn't able to perform at 100% on the field. Dr. Scott helped relieve his pain so he could return to playing at his best.
Would you like to be more active and enjoy your favorite sport or activity free from pain? We want to help. Schedule a convenient appointment today!